TOFU & BROWN RICE STIR FRY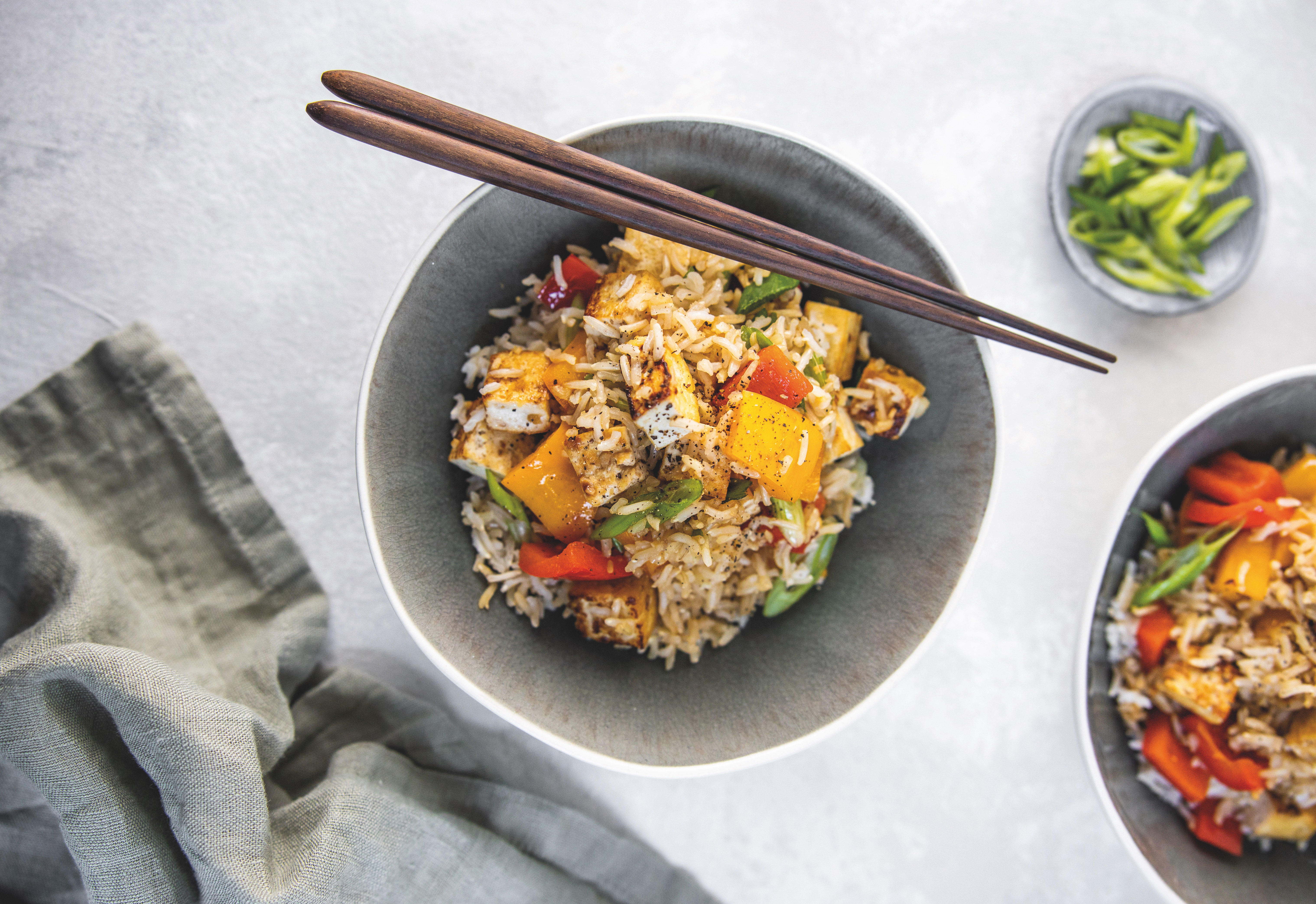 TOFU & BROWN RICE STIR FRY
3 servings (23g)
Using Beta heart
The Asian flavours in this stir fry are an utter delight. Combined with the protein goodness of Tofu, it creates a delicious meal while being a great source of fibre with no added sugar.
2 tablespoons sunflower oil
225g tofu, cut into 1cm cubes
3 cloves garlic crushed or finely grated
1 tablespoon peeled and finely grated ginger
1 medium red pepper cut into 2cm chunks
1 medium yellow pepper cut into 2cm chunks
2 cups cooked brown rice (see Tip)
3 tablespoons soy sauce
3 teaspoons toasted sesame oil
6 spring onions thinly sliced at an angle
Place a wok over a high heat for at least ten minutes until really hot. Add the oil, allow to get hot, then tip in the tofu, and stir-fry until golden around the edges.
Now add the garlic and the ginger, and stir-fry for a minute or so until fragrant and golden. Remove from the pan, leaving any oil in the wok and set aside on a plate.
Place the wok back on the heat and allow to get hot again. Tip in the red and yellow peppers; cook, stirring until peppers are only softening on the outside but still have a bite, about 3 minutes.
Cook the rice for around three minutes, stirring occasionally until the rice is heated through. Stir in the sesame oil and the Beta heart and then gently mix in the tofu with ginger and garlic. Add in the sliced spring onions and add soy sauce to taste. Serve hot.
Tip: To cook the brown rice, start with 1 cup of raw brown rice. Cover it with 3 cups of cold water and boil for 15-20 minutes, taking the lid off for the last few minutes if there's still water in the pot. Drain any remaining moisture from the rice.